NEOSHO, Mo. — While most students are just starting to find their way into adulthood at the age of 18, Madison Brown is different.
The 2019 homeschool graduate already has her own freelance design business, a published coloring book, and a book imprint with dreams of more titles.
Earlier this year, Brown took the knowledge she gained from her associate degree in graphic design from Crowder College and combined it with research and skills to complete "Bloom: A Coloring Book for Industrious Women."
The book, created completely on Brown's iPad Pro using an Apple Pencil and the ProCreate app, features more than two dozen of her original designs.
Each page highlights a different career, with a woman at the center. While the women illustrated are beautiful, Brown's designs also showcase the strength needed to complete the tasks.
For example, one page highlights a female police officer, while another gives an image of an astronaut. Other careers mentioned include a paleontologist, a baker, a chemist, a movie director and a dairy farmer.
"I hope it brings some fun and enjoyment," Brown said. "I also hope people who see it are inspired to create their own things, just like I was inspired to dream and do things."
How it began
Brown, the daughter of Lynette and Charlie Brown, said she's always been interested in art. Creating art, using everything from charcoal and pencil to watercolor, has always been a part of her life.
As she finished high school, Brown took her creativity to the next level by simultaneously pursuing an associate degree in fine arts.
After taking a graphic design class, Brown decided to switch her emphasis. The change allowed her to develop her own brand and begin to accept work as a freelance illustrator and designer.
As she researched potential career paths, Brown learned about an artist who self-published a coloring book.
With the idea in hand, Brown began dreaming about her own book. Initially she wanted to pursue a science fiction-style theme, mixing mechanical/industrial themes with floral elements.
As she completed her first image — an astronaut surrounded by flowers, she began to consider changing her theme to encompass women at work.
"I liked how they were very feminine, but still really strong," Brown said of the new designs. "I was able to capture the soft elements (of the flowers), but also the strong elements of their industrious spirit."
While Brown said she's a self-taught artist, lessons in anatomy and clothing came into play, as she considered different poses for the women and how the uniforms would look on their bodies.
"I hope people see the different jobs featured throughout the book, and it inspires them to pursue their own goals," Brown said. "If a little girl looks at it, I hope she's encouraged and knows that she can do what interests her, what she has a passion for (in life)."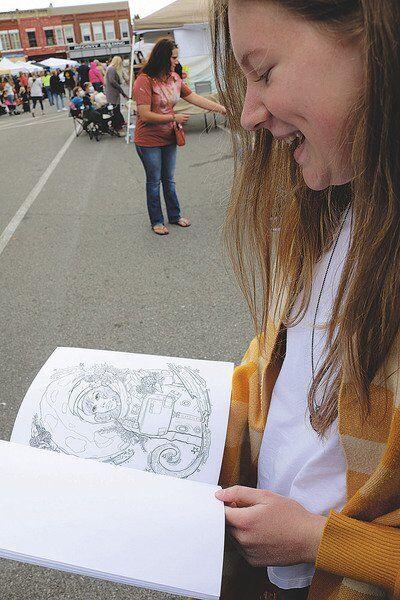 She also learned how to utilize patterns and other designs, as well as typography for the backgrounds.
"I learned a lot about lines and how lines can lead the eye in different directions around the coloring pages," Brown said.
Brown published her book under the name Sarah Madison Designs and Development. Her goal is to continue to seek out work under that moniker.
"I hope this encourages people to not only dream and imagine something, but to work towards it," Brown said. "Go out, take steps toward what you want to do. Move toward your goals, work hard for them, don't just dream about them."
What's next
As she promotes her coloring book, Brown continues to contemplate her next move. She's considering expanding her education to include a business or a marketing degree. She's also using this fall to expand her skills as an artist.
"I'm always working on just creating art in general, be it painting or drawing," Brown said. "I'm always sketching in my notebook, doodling with a ballpoint pen. A lot of my larger pieces are watercolors."
A degree in film and television may also be on the horizon. Brown also enjoys writing young adult novels and would like to potentially expand those skills into the entertainment industry.