Edinburgh's City Art Centre celebrates its 40th birthday in style, with two new exhibitions showing off some of the treasures in its collection, while The Glasgow Boys and Girls visit the Granary Gallery in Berwick
Friday, 18th September 2020, 5:50 pm
Updated
Friday, 18th September 2020, 5:58 pm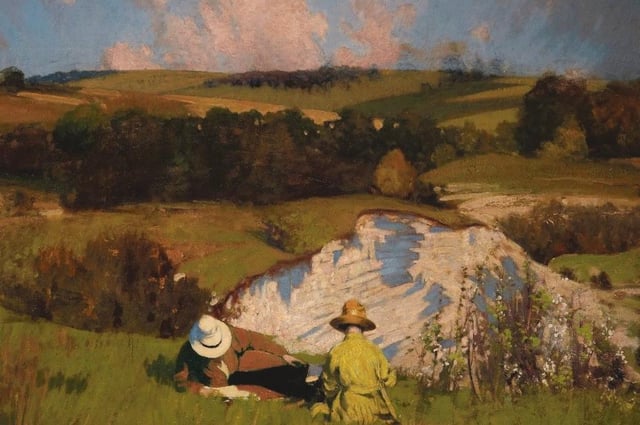 Detail from The Chalk Pit, by George Henry, 1922, from Bright Shadows at the City Art Centre
City Art Centre at 40: Highlights from the City's Art Collection, City Art Centre, Edinburgh *****
Bright Shadows: Scottish Art in the 1920s, City Art Centre, Edinburgh *****
The Glasgow Boys and Girls, The Granary Gallery, Berwick *****
Detail from Cecile Walton at Crianlarich, 1920, by Eric Robertson, from Bright Shadows at the City Art Centre
Edinburgh's City Art Centre is 40. That it has survived four decades is entirely due to the energy and dedication of its successive curators – Elizabeth Cumming, Ian O'Riordan and now David Patterson – and the fact that it has been able to open at all in the current adversity it is due to the latter's determination. It had to open at no cost to the city's budget. That took some ingenuity or even magic, but he managed it. In the event two floors are open. Bright Shadows: Scottish Art in the 1920s, in the lower gallery, will run until next summer, while on the first floor is City Art Centre at 40: Highlights from the City's Art Collection, a selection of key works on display until October. This includes such masterpieces as Cadell's The Black Hat, George Henry's Poppies, John Henry Lorimer's The Flight of the Swallows, Adam Bruce Thomson's North Bridge and Salisbury Crags, Eduardo Paolozzi's Horse's Head, and Robert Colquhoun's Circus Woman.
This display, which also includes drawings and watercolours, shows off the collection's strengths; they in turn reflect the circumstances of its creation. This followed the gift to the city of the collection of the Scottish Modern Art Association, formed at the beginning of the last century to secure in the public domain examples of the best in contemporary Scottish art. When the SNGMA was created in 1964, assuming its job was done, the association dissolved itself and offered its collection to the nation.
Inexplicably (inexcusably?) this astonishing gift was rejected. The then keeper, the late Douglas Hall, evidently wanted an international collection. He failed to recognise, as others with the same woolly international ambition also failed to recognise: national is a precondition of international. It follows you can't meaningfully have a National Gallery of Scotland without Scottish art. Happily the present leadership has been persuaded to think differently. The presentation of the nation's Scottish collection in the new wing on the Mound will go a long way to redressing this failure of vision. Not before time. As heirs to the SMAA, successive curators of the City Art Centre have used their limited funds with great skill to continue its mission and so now the City is owner – and I hope proud owner – of an unrivalled collection of Scottish art.
Bright Shadows in the lower gallery demonstrates that the collection is rich enough to have themed exhibitions drawn from it, in this case the diverse art of the 1920s. It opens with Eric Robertson's gorgeous portrait of his wife, Cecile Walton, Cecile Walton at Crianlarich. Sitting naked in the sunshine by a Highland river she makes clear that for the artists at least this was not a stuffy decade. The picture is on long loan, but it is a shame that there is nothing by Cecile herself in the collection. One for the wish list certainly. Dorothy Johnstone was a close friend and her Rest Time in the Life Class, showing a group of girl students gathered round the resting model, is a beautiful record of her time teaching at Edinburgh College of Art. It was sadly cut short. The brutal rule was that when she married fellow artist, DM Sutherland, she had to stop teaching. Her husband is represented by Boats, Concarneau, a fine picture of boats in the sunny harbour in Brittany. DY Cameron's A Garment of War is in a very different mood. Ruined buildings, somewhere in Flanders, are silhouetted against a sky, orange with the flames of war and darkened with its smoke. A recollection of Cameron's experience as a war artist, it makes a striking contrast to The Chalk Pit by George Henry, a wide and tranquil sunny landscape painted in the Sussex Downs.
Detail from Circus Woman by Robert Colquhoun, which features in the City Art Centre at 40 exhibition
Equally contrasted to both is an enchanting little watercolour of Moonrise over St Giles by Kate Cameron, DY Cameron's sister. Beneath the rising moon, the ancient church and the houses of the Edinburgh's Old Town look like fairyland.
Cubism was also part of the story of art in the 20s. Alongside these pictures is, for instance, a minute and delicate cubist study in pencil by William McCance and William Johnstone's semi-abstract painting Sanctuary. The Colourists were of course also still working in this period and Peploe, Cadell, JD Fergusson and Leslie Hunter are all represented. One of the outstanding pictures here, however, is From My Bedroom Window by Adam Bruce Thomson. A china basin, a towel on a table and a view to sunlit trees beyond are all framed by curtains. With a freshness and clarity which are quite outstanding, it can more than hold its own.
Just as the SMAA wound itself up, Flemings Bank began collecting Scottish art. It was just quality furnishing at first – I remember long ago seeing now cherished pictures hanging above copying machines and typewriters – but the collection grew until a new building for the bank had to be designed around it. Later the bank was sold, but in an act of striking generosity the family hived off this outstanding collection as the Fleming-Wyfold Foundation. Previously there was a gallery in London, but James Knox, presently in charge, has sought to reach a much wider public through loans and exhibitions. If you look carefully when they are on the telly, you may see Fleming pictures on the walls behind our politicians.
The latest travelling exhibition from the collection is The Glasgow Boys and Girls, a jewel of a show that opens first in the Granary at Berwick. There are familiar pictures. George Henry's big pastel, Girl Reading, for instance, celebrates the sheer beauty of great drawing. James Nairn's View of Corrie on Arran, a casual scene with cottages, abandoned boats and linen bleaching in the sun, is a masterly account of sunlight. There is a lovely, equally sunny painting of St Andrews by WY MacGregor. George Henry's Playmates, two girls playing a game with pebbles in the dust, is among several significant loans. Another is a painting of violets by Maggie Hamilton, sister of James Whitelaw Hamilton, but unjustly less familiar. Daydreams by Constance Walton, a little girl sitting reflecting on some steps and a nice study in reverie, is from a less familiar artist in the Walton dynasty. She was sister of EA Walton and so aunt to Cecile.
Among the stars here, too, is a painting by Flora Macdonald Reid. Another hitherto unsung heroine of Scottish painting with a better-known brother, the painter of rural scenes, John Robertson Reid, her painting Fieldworkers shares his kind of subject. The intense light she describes through vivid colour is quite her own, however. This is a wholly unfamiliar picture and a reminder as it continues to grow how important the Fleming Collection is for our knowledge of Scottish art. I am not sure quite how well Flora Macdonald Reid qualifies as a Glasgow Girl, however. She studied at the Trustees Academy and lived and worked in Edinburgh before moving south with her brother in 1880. No matter. She was certainly part of the exciting Scottish art of the late 19th-century generally identified with the Glasgow painters. This lovely show also nicely complements ECAC's Bright Shadows. Several artists appear in both exhibitions and family connections link them closely too. That's hardly surprising. Scotland is a small place.
City Art Centre at 40 until 18 October; Bright Shadows until 6 June 2021; The Glasgow Boys and Girls until 15 November
A message from the Editor:
Thank you for reading this story on our website. While I have your attention, I also have an important request to make of you.
The dramatic events of 2020 are having a major impact on many of our advertisers – and consequently the revenue we receive. We are now more reliant than ever on you taking out a digital subscription to support our journalism.