Donald, party of eight, your table is now ready at the Fred Jones Jr. Museum of Art. Donald, party of eight. 
Norman is no stranger to political tension — e.g., recall petitions— and artists rarely shy away from political commentary. Visual artist Paul Ruscha has served his take on America's current political situation on a silver platter. 
Paul's "Dinner for Donald" is currently on display in "OK/LA," Fred Jones' newest exhibit.
The work features a pristine dinner table set with proper cutlery and adorned with a floral centerpiece. Each of the eight place cards, inscribed with other prominent politician's names, is accompanied by a porcelain throne.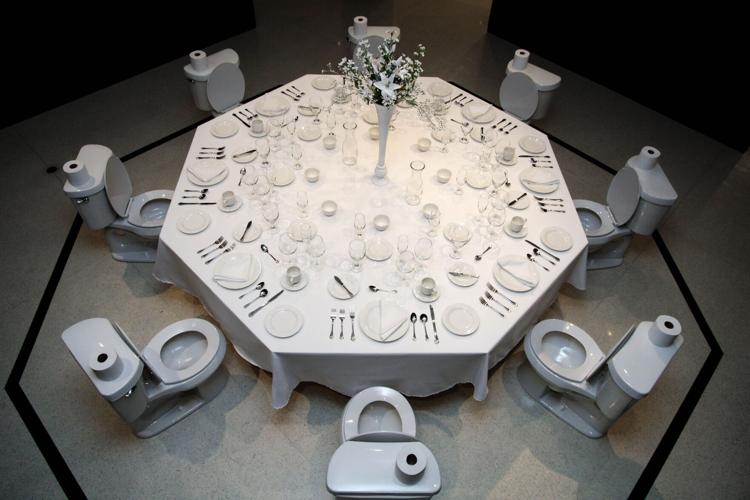 "OK/LA"  features work from six former Oklahoma artists. Patrick Blackwell, Joe Goode, Jerry McMillan, Mason Williams, and brothers Ed and Paul Ruscha, all grew up together in Oklahoma before they decided to take their careers to the west coast. 
All six artists managed to make it big in Los Angeles and are now paying homage to their red dirt roots with "OK/LA" — a juxtaposition of Oklahoma and California's politics, atmospheres, and landscapes.
The Fred Jones' Chief Preparator and Exhibition Designer Brad Stevens said the exhibit is designed to guide the audience through the lives and careers of the artists. 
"These are homegrown artists that have gone off and made really big names for themselves. It's kind of interesting, specifically for people in Oklahoma," Stevens said. "I think that should be a call for people to come and see some of their own people and see their work."
Stevens said designing the exhibit was a painstaking process. The exhibition staff wanted to make sure everything was absolutely perfect because, prior to COVID-19, the previous opening date was set months earlier. 
"We've had time to overthink some things, but I think we've come out with a really good, solid-looking show, and I'm really proud of that," Stevens said.
After agonizing over the details of the exhibit, Stevens and his team settled on six different thematic sections. Stevens said the show illustrates the artists' journey from Oklahoma to California and leads up to the largest piece — Paul's "Dinner for Donald."
"My big thing would be to say, with that piece specifically, is don't make snap judgments on what you're looking at," Stevens said. "Try to understand it first before you start to react to it." 
In contrast to the political work of Paul, much of painter Joe Goode's work takes a more pastoral approach. 
Many of Goode's paintings illustrate the weather of Oklahoma. Stevens, an Oklahoma resident of 15 years, said Goode's work resonates with him because the weather and atmosphere are quite distinctive of Oklahoma. 
"(Goode has) a couple of works that are dealing with tornadoes. And I think those are striking in the art space," Stevens said. 
OU English professor Susan Kates specializes in the history of Oklahoma art. Kates said art from and about Oklahoma is often overlooked because outsiders don't realize the artistic potential of the state. 
Kates said a common theme she's observed among Oklahoma art pieces is the depiction of the "harsh beauty" of the land. 
"I think photographers, filmmakers and painters really try to capture that red hue of the dirt," Kates said. "That's a very Western, beautiful quality about Oklahoma."
Kates said the building of the famous Route 66 was a pivotal point in Oklahoma history and culture. During his journey to California, Ed Ruscha took a photograph of a gas station on the famous highway.
Ed later turned that photograph into a screen print which has become one of his most famous art pieces to date — "Standard Station, Amarillo, Texas."  "OK/LA" features four prints based on this piece.
"(Ed focused) a lot on the gas stations of Route 66, almost like they're the cathedral to exploring America," Kates said. "It plays into that stark beauty theme."
Byron Price, Wylodean and Bill Saxon Interim at Fred Jones said "OK/LA" differs from artists' showcases of the past because it looks at the relationships between the artists and the growth of their friendship.
Price said the "OK/LA" is likely to pique the interest of art museum novices and veterans alike.
"It's a show that's very rich in objects and artworks," Price said. "There's something really for everybody.
Price finds the exhibit particularly inspiring because the six artists were able to emerge from their small town and create art that has impacted American culture, he said
"(The exhibit) is a great opportunity to see half a dozen really important American artists from the 1960s, 1970s, 1980s and 1990s," Price said. "These are people who are still producing art and have been recognized as the trendsetters of their era."
In respect to the ongoing pandemic, Fred Jones director of communication Kaylee Kain said the museum is requiring visitors to wear a mask and social distance. To make social distancing easier, the museum has also reduced its visitor capacity. 
Kain said the museum is a fun and easy place for people to come and have a socially distanced day out while enjoying the new artwork. She said the staff has been working tirelessly by frequently cleaning the space to keep the exhibit open for people to experience.
The "OK/LA" exhibit will be open Tuesdays through Saturdays 10 a.m. to 5 p.m. and Sundays from 1 p.m.- 5 p.m. until March 7, 2021 at the Fred Jones Jr. Museum of Art.
"This is a really important exhibition for OU, and also for Oklahoma because these are artists from the Oklahoma City metro," Kain said. "The fact that we get to put this show together here in Norman is a really big deal and we're excited to do it."