Desiree Hund from Painted Love Arts is the artist behind this summer's intricately detailed "Bee the Change" blockade art in Downtown Midland. Her path into an artistic career was a bit winding, coming after a serious back injury.
"Back in 2014, I was working as a nurse doing dialysis work and I hurt I hurt my back pretty seriously," says Hund. "I ended up going through a ton of different treatments and finally ended up getting back surgery in 2016."
"While not working and going through the healing process, I was bored and alone with nothing to do. You go from getting interaction with people and patients working in the nursing field, and after surgery I needed something to fill my time and occupy myself," she says.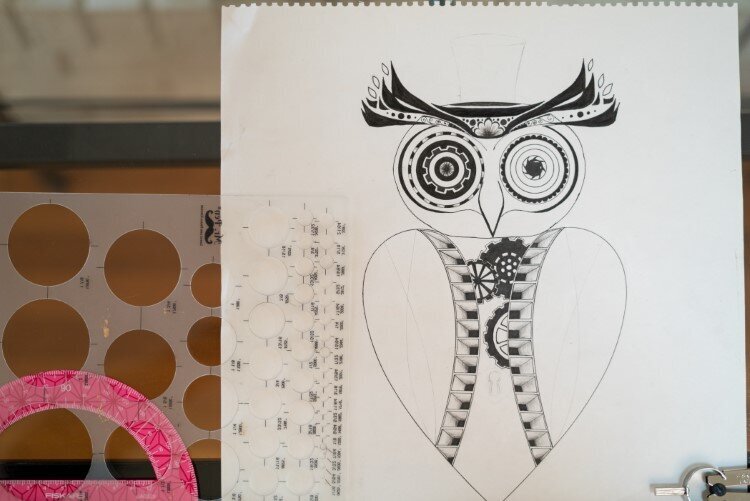 A piece in the works from Hund.
"I was pretty limited physically, so it was something that I could actually do at the time," she says. "So, I got an easel and I just started messing around one day and that's how it all got started."
For her, it's been mostly hobby and small commission work for a few years as she dabbles in different mediums and passions. Originally from Coleman, Hund now lives in Midland.
"I've been getting a lot into drawing lately and I really enjoy that and I'm getting into watercolor painting and possibly a few other mural projects. I'm really interested in doing more large-scale works, and I have a fence in my backyard I'm going to paint at some point, too. I've made jewelry for years, done resin work with the Unicorn Spit resin line, so it's really a little bit of everything."
Hund works in many different mediums including paint, drawing, stain and more.
By chance, Hund got connected to Jazzmyn Benitez and other artists planning the blockades, and her work took off from there, in what was one of the most detailed pieces. To make the beehive structure symmetrically perfect, Hund even made her own stencils to work with for the piece.
"The whole public art thing was just kind of a fluke how it happened to work out," says. Hund. "A friend of a friend told me that they were starting something in Downtown Midland. I was really happy I was able to be a part of the artist group to do it, as well as how well the piece turned out. It was pretty neat."
Before COVID-19, Hund's plan was to go back to school for art therapy, something she is incredibly interested in and an area that blends her nursing background with her love of art and creativity.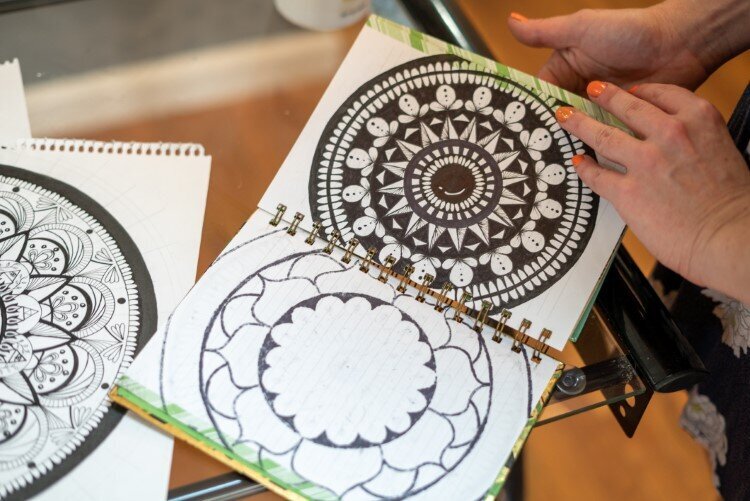 One of Hund's first mandala pieces.
"There's part of me that has always felt pulled into both of those different directions and there's part of me that just wants to do a little bit of both," says Hund. "There are also classes that I could teach for more entertainment courses, and that's a form of art therapy all on its own too. So, I'm exploring all those options right now."
Hund draws much of her inspirations and materials from things she finds on Instagram.
"I like to find different products and things to try there. Often, I'll do research on how to work with new materials on YouTube or even short videos on social media for a few months before I ever try anything out, just to get the feel for how something can be used," says Hund. "That's how I found the Unicorn Spit stain and it's one of the most vibrant materials I've ever worked with because it's bright, beautiful and you can do so many different things with it."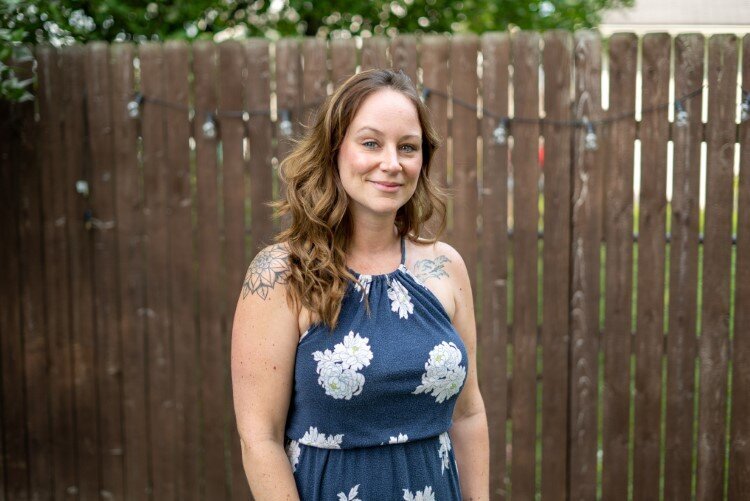 Artist Desiree Hund.
For fine art, Hund draws inspiration from Salvador Dali and Monet, for the different aspects each artist's work brings to different pieces.
"Dali is probably my favorite, I appreciate that it is kind of odd and abstract," says Hund. "And Monet, I think it's probably the opposite of my work, so I can just appreciate it more. I can't paint like that and so much of my work is done with clean lines. I feel like if my lines aren't clean that it doesn't make sense to me. But I can definitely appreciate it in other people's work."
Locally, Hund has drawn inspiration from her friend, Paul Walker of Walker Custom Carpentry and fellow artist Jazzmyn Benitez. Walker makes custom wood frames for art among many other things, and has made custom frames for both women in the past.
One of the biggest things that Hund is known for is her mandala artwork, something she found her way into by chance as well.
Hund's work with Unicorn Spit started with information she found on social media.
"It all started out just drawing one day, with no particular design in mind. I had a pad of paper, and wasn't even a drawing pad or anything special. I was working with different shading techniques and that got me interested in YouTubing how to draw with black and gray shading. And that led into learning dot drawing and mandalas."
"For the first couple I did all by hand and didn't use a compass or anything, but it was really fulfilling to see the process and to see them come to life. I started taking pictures of the process and was finally hooked, so I bought a drafting table and got to work," says Hund. "The process of creating them is really relaxing and creating them really fulfills the part of my brain that likes symmetrical things."
Hund is working to make her pieces more functional, and works off of the website society6 to turn her art into items like apparel, home décor, and more. She is currently in the process of creating a shower curtain from some of her own designs, among other items.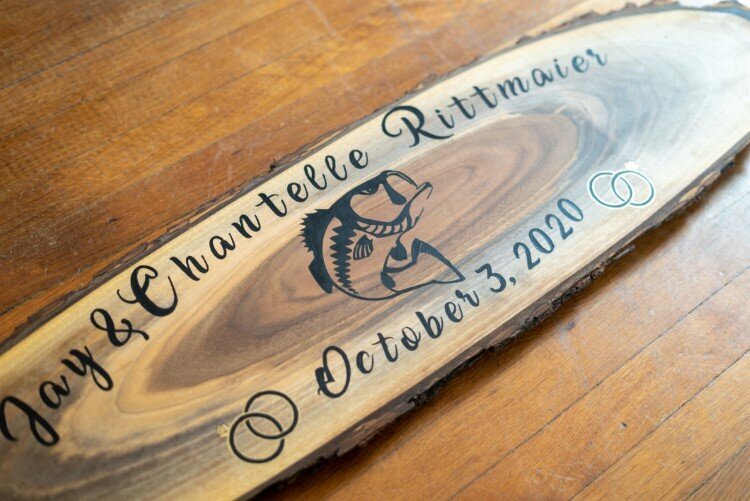 The piece Hund is working on for an upcoming wedding.
She's also commissioned a few new projects lately including a painting for an upcoming wedding.
"The new wedding piece is a long wood plank I painted with a fish on it for the couple, as they like to fish and it was commissioned for a wedding gift," says Hund. "It's nice to change up the subjects and mediums every once and a while, because it always presents new challenges and I learn from everything I do."
For those looking to work with something new, or just interested in exploring their creative side, Hund has a few suggestions that have helped her.
"There are so many resources to learn from online now and that makes it really easy to try out a new inspiration or idea," says Hund. "It's fun to see your progression on a piece of artwork no matter your skill level and often it gets you out of your head. Talent is simply just consistent practice."