Metal sculptor and painter of fine art Bridget Joan is an Olympia artist whose work speaks of emotion and earthly elements. A desire to connect with people guides her artistic choices in movement and creation, resulting in pieces that sometimes combine multiple mediums. Most recently, she has shared her talents with the public through her creation of The Cider Barrel's new sign.

Art has long been a focus in her life. Joan was drawn to artistic opportunities early on while growing up in Olympia. Exhibits on tour from Seattle to the Smithsonian caught her attention and won her attendance. Artists such as Vincent Van Gogh and Claude Monet shared some of the same appreciations as her for light and movement, "I think my metal works or paintings that incorporate metal are similar in the sense that it's the interaction with light that I am exploring and how it's experienced and perceived not just the beauty of the object itself," says Joan.
Her interest led her to degrees in graphic design and metal sculpture from The Evergreen State College. She is a working artist and has been able to devote time in her life to her art, always studying and always exploring new materials.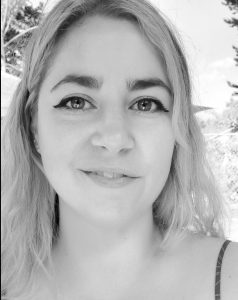 "I would consider myself to be a life-long student," she shares. "I am always looking for new thoughts, ideas and perspectives to help me grow in all aspects of life. I love the exploration and the overcoming of challenges that is required when creating art. It requires dedication and imagination to often times complete a project. This means I am always learning, growing and strengthening my skills for the next project. My artwork often requires different materials to be explored and used to create specific design aesthetics. I will always experiment with new materials or new uses for them if it helps convey what I am trying to express through my artwork."
Joan works with a variety of mediums in her art. Metals, paint and wood dominate her work and sometimes overlap in a single piece. Experimentation is her catalyst for new art. The interaction with new material draws on and pairs up with her prior experiences and knowledge. What is born is a combination piece such as the chair she made of wood and woven metals after she took a basket weaving course.
Her love for metal evolved through her exploring nature. She had made a small ballerina out of silver and crystals, and she wanted it to be able to stand freely. Then and there, she was launched into learning how to work with metal to solve the issue. Similarly, upon seeing pink colored copper, she fell in love with copper and began exploring the new material.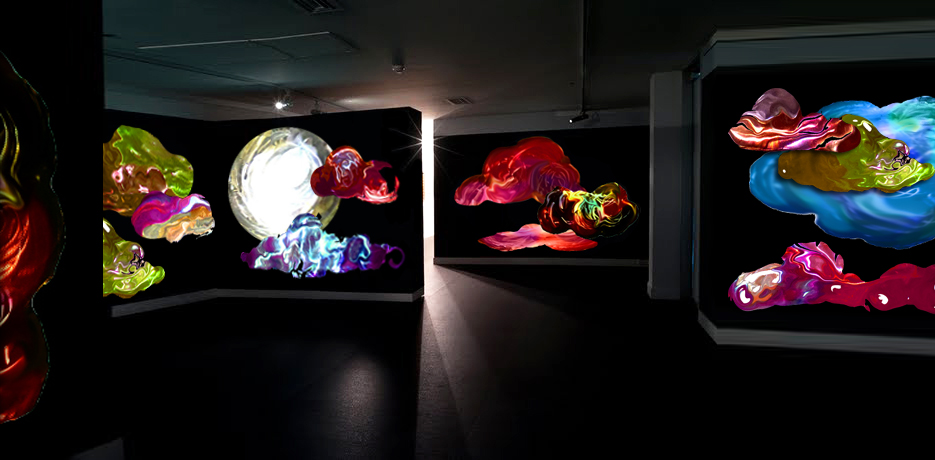 "Working with metal requires special skills and a lot of time and energy but it's worth the work," explains Joan. "I love the raw beauty of metal, especially its capacity to change color and interact with light. I love that it can be shifted and molded into whatever I dream up. Most of my metalwork is created using its natural beauty as inspiration. I understand its tendencies and restraints, which allows me to work with shapes and imagery that I think will add more depth and interest to its natural beauty."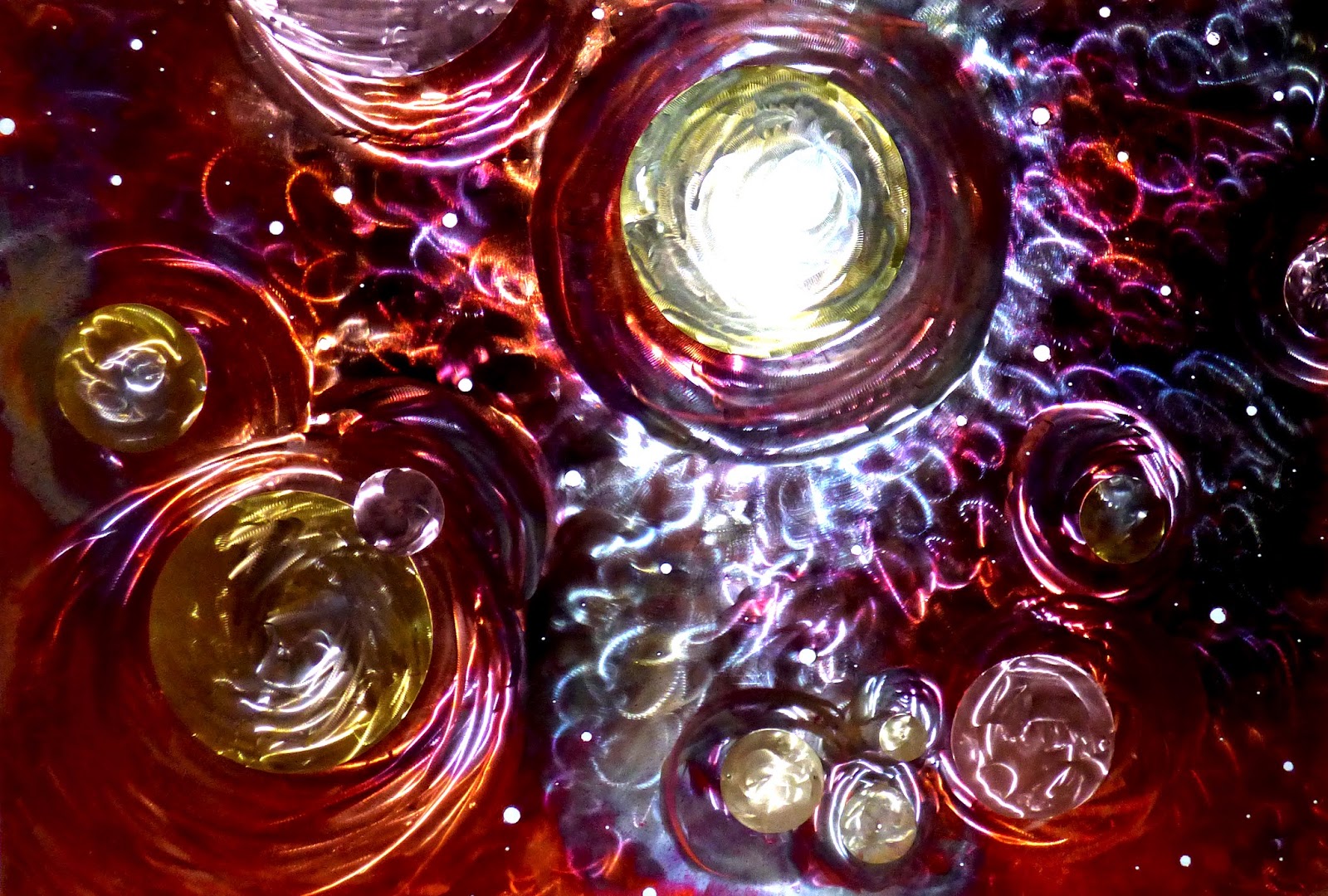 Her Newest Piece: The Cider Barrel Sign
The Cider Barrel's sign was decidedly going to be made of wood. "Troy Kirby the owner of The Cider Barrel really wanted a piece that had some of the same aesthetics of my metal artworks but made from the same repurposed wood he used in the rest of the bar," Joan explains. "It's wood but when the light hits, it dances and is forever moving and changing like my metal pieces." A metallic treatment, a paint base that is translucent with copper and gold pigments, covers the whole sign. It's an effect that catches the light. "I liked that it was a new challenge," she adds. "Normally my work comes from organic ideas I have throughout my day to day life. This project required me to think outside of the box and create a piece that could convey the voice or wants of another person."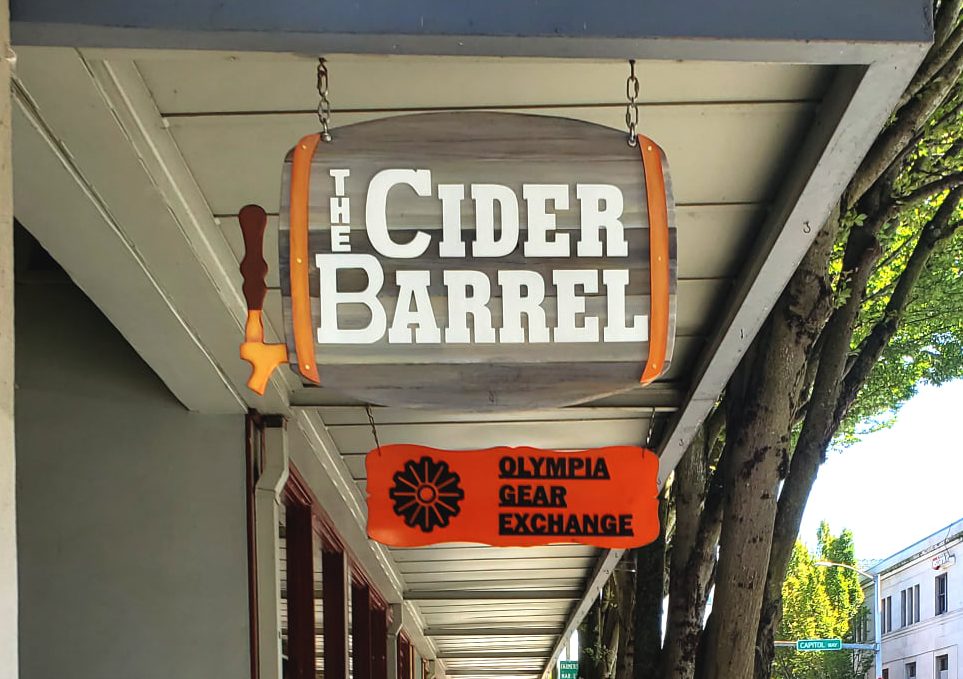 Transcending beyond capturing light and manipulating materials, Joan seeks to connect with others and express deeper meaning with her art. "When I was around 5-years-old, I remember my mom saying that she believes when we die our souls still have purpose and we pick and choose our 'work' in heaven like we do on earth," Joan says. "My response was 'I want to paint the heavens and skies for people when I die.' Even at that age I wanted to bring beauty to this earth and share it with others so they might enjoy it too.  Today, I feel I have the same goals.  I simply want to make beautiful works that I and others can enjoy.  I want to share what brings me happiness and love in this life, in hopes that it brings others the same happiness.  I want to bring light and be a light in this world that can often be so dark."
Bridget Joan creates in her studio and is currently expanding her workspace to include a traditional metal shop in which she will also be able to practice the wide range of her work, including welding. Her art can be seen as you stroll under The Cider Barrel sign as well as in her studio and on the Bridget Joan website.