As the series of Art Challenges launched in Green Valley and beyond creatively test artists with a variety of limits and boundaries, it also tests their ability to increase their ingenuity and talent.
For September, artists were challenged with creating a monochromatic work of art.
Monochromatic colors are all the colors in a single hue. As an example, adding some white to blue makes tints of blue. Adding some black to blue make shades or tones of blue.
Simply said, monochromatic color refers to variations of one color. Adding white to red creates pink and adding black to red creates maroon. The more white or black added, the lighter or darker the color becomes.
Though color was limited, the style of art was wide open. Artists could create an abstract, contemporary, impressionism, pop art, realism and more.
Jean Hanson's refreshing choice of subject is right outside her home in Idaho where she had the pleasure of painting en plein air.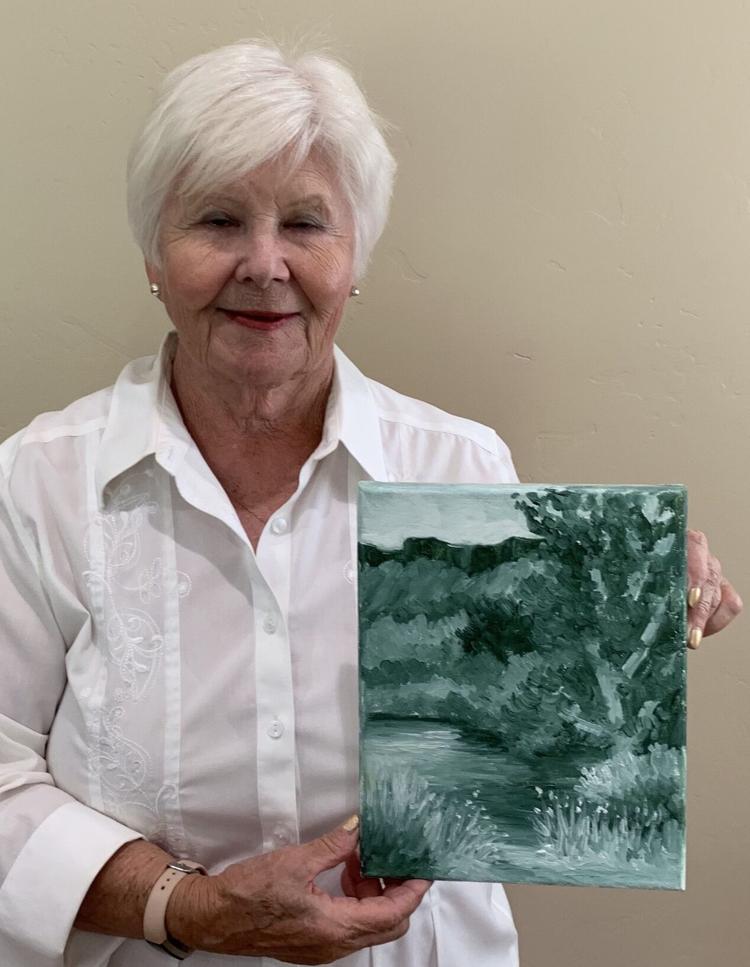 She walked just 30 yards from her home to paint Clear Lake Pond and used green earth from Sennelier and white to create this natural scene of green serenity.
Along with painting for this art challenge, Hanson said she was also taking part in the Strada Challenge where she had to create a painting from life every day in September. With this painting she satisfied the requirement for two challenges — and herself.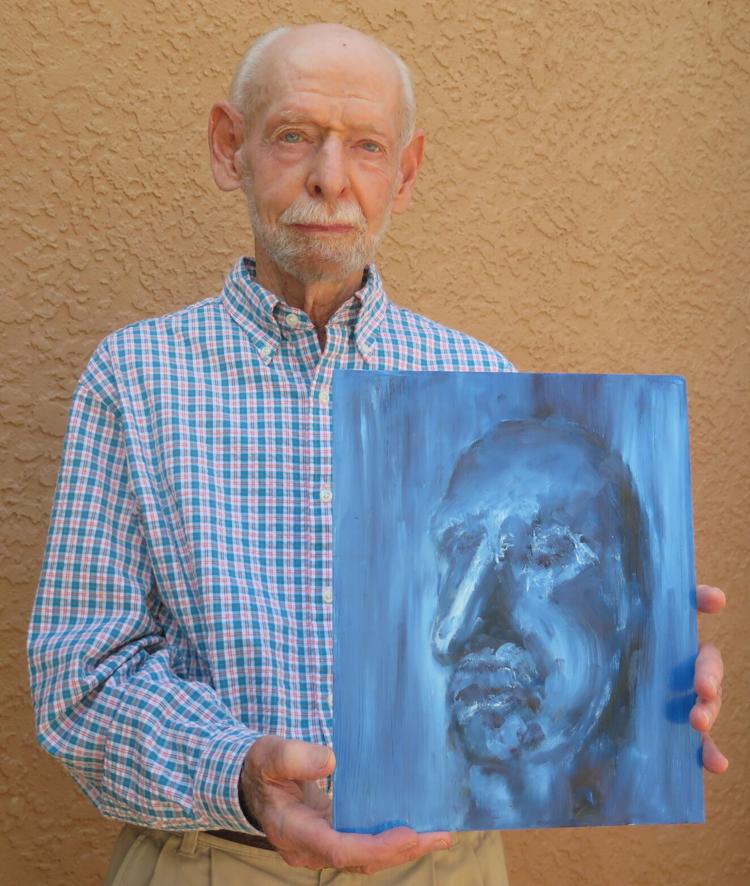 George Smith used Prussian blue and zinc white oil paints to recreate "Dante's Death Mask."
He said it took him about two hours to do the painting where he recreated Dante's nose, which has been described as aquiline with a prominent bridge and curved like an eagle's beak.
"As I painted, I'd step back often to see if it looked accurate from a short distance," he pointed out.
The original death mask of the Florentine poet, moral philosopher and political thinker is at the Palazzo Vecchio in Florence, Italy.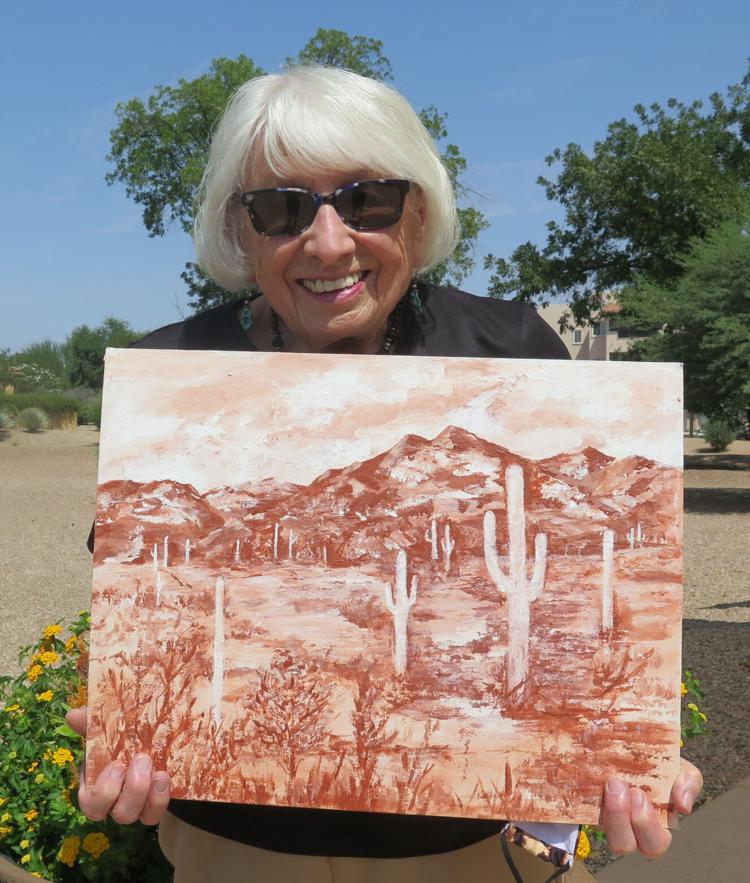 Selecting only one color to interpret the many colors of the high desert challenged Sonia Collins to create her painting, titled "Arizona Southwest," on a canvas board.
"Choosing burnt sienna as my color, I tried both acrylic on gesso and watercolor on white paper. The results were different: the watercolor painting was more subtle, but with the acrylic I managed to achieve a better feeling of space. My conclusion was that I need to learn how to better control values to achieve a desired effect," she explained with a positive vibe as she approaches her 98th birthday in December.
Valerie St. Marie spends five months a year in Green Valley, belongs to the Santa Rita Art League and has been following the Art Challenges from Colorado. She's also enjoying Zoom sessions with SRAL members every Friday.
A photo of a daisy she took last winter finally motivated her to enter, as her painting of the daisy fit the challenge.
"I loved the shadows and had always wanted to try painting the details of glass. I thought the monochromatic challenge would be perfect for it. My painting is watercolor — using just indigo and the white of the paper," St. Marie said of her work titled "Indigo Daisy."
Layne Cook created "Not Likin' What I'm Seeing," and it sold so quickly in a gallery near her home in Washington that she couldn't send a photo of her with the art.
Cook said she deliberately chose a subject with something that might be difficult to paint — a newspaper.
"I wanted to depict it solely with a big brush and scraping. I chose burnt umber as my color because it is so pretty when it's transparent, and I could create values both by the degree of transparency and by mixing it with white."
Regarding the title, she said she thinks it's appropriate for what's in the news these days regardless of one's politics.