The newly opened Sakarsa Art Space, designed by renowned architect Budi Pradono, waited a year to display its first exhibition.
The art space, located in Bekasi, West Java, that opened its doors on Sept. 9, is managed by Andonowati, director of ArtSociates and successful manager of Lawangwangi art space in Bandung, and curated by Asmudjo Jono Irianto.
Andonowati said the gallery, owned by Sakti Wahyu Trenggono, was completed last year and that she had been asked to organize the first exhibition before the pandemic intervened.
When asked about the timing for opening the art space during this difficult period, Andonowati, who likes to think inventively and is always searching for new possibilities for artists and collectors, is of the opinion that one must adjust to the challenges of the time.
She thinks that expanding her collectors network along with Wahyu Trenggono's will be energizing and help revitalize the art scene in this time of the pandemic. "It will create a new cluster of collectors," she said.
Indeed, after just one week, Andonowati said that sales had gone quite well.
Wahyu Trenggono, whose political activity keeps him busy, is a fervent art lover. "When I became involved in politics, I came to understand the importance of arts and culture as the backbone of national unity for it is cultural resilience that can unite the country," he said.
The exhibition of 25 artists, including established, semi-established and upcoming artists, offers a thorough selection of interesting contemporary works in which technique, material, innovation and visuality firmly unite.
Curator Asmudjo explained that the exhibition featured artists who he considered to be the face of Indonesian contemporary art.
"Contemporary art is pluralistic," he says. "Any theme and material can do. So there is no overall theme, and the mediums used are various."
The artists include the highly conceptual and culturally knowledgeable Eddy Susanto, who is known for his innovative juxtapositions of images from Renaissance painters, which he depicts with Javanese script telling a similar story from the Babad Jawi chronicle.
The exhibition features Eddy's painting Adam and Eve after the Renaissance painter Albrecht Duerer, in which he juxtaposes in one frame two contrasting perspectives of Adam and Eve from the same period of time, namely that of religious cosmology that refers to the Book of Genesis and the physical cosmology held by Sir Thomas Burnet, who employed theology and geology as well as other scientific approaches to investigate the universe's origins.
The exhibition also includes work from the talented Mujahidin Nurrahman, such as his beautiful, delicate arabesque-style paper cuttings of AK-47 rifles and his paper cuttings of the shadows of war planes that conceal the dark stories of violence and pain experienced by wives and mothers in particular.
"This work has a feminine appearance," he says. "But it depicts the F-16 aircraft that have been commonly used in wars like the Gulf War, the Gaza war and others – a symbol of terror and violence, particularly for women and wives."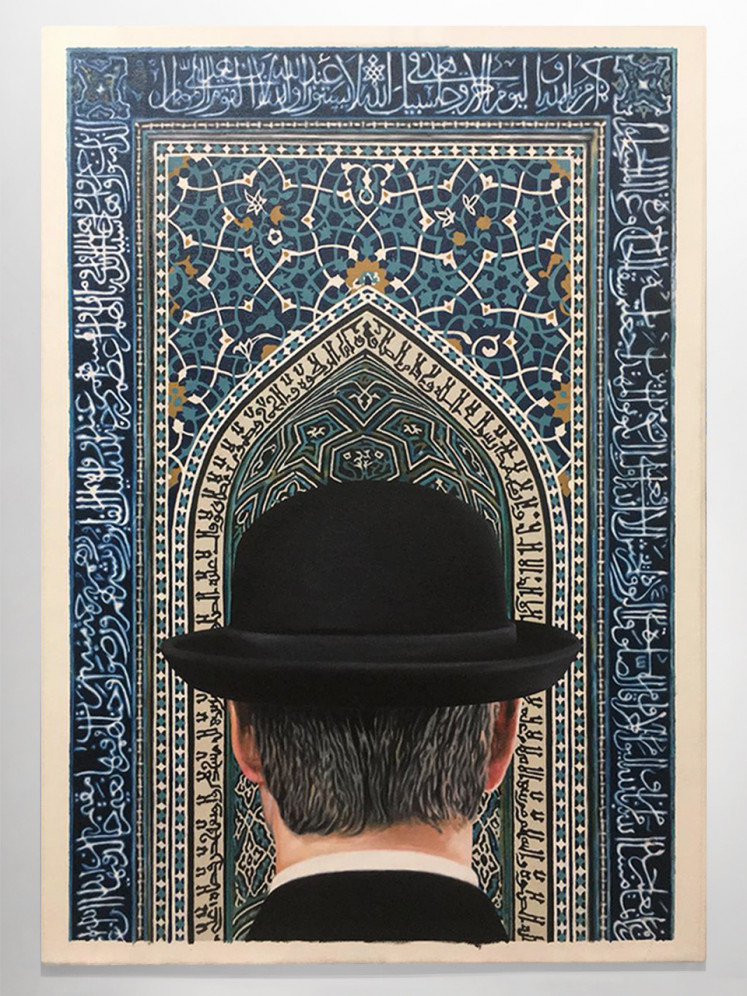 'Absorption: After Magritte' (oil on canvas, 2020) by Yogie A. Ginanjar (Courtesy of ArtSociates/-)
There is also Yogie A. Ginanjar who feels the tension of being a modern painter and a Muslim who needs to abide by the rule of depicting only the non-figurative.
He found the solution by appropriating Rene Magritte's iconic surrealist head and placing it against a background of calligraphic expressions of spirituality.
This challenge has also been faced by Dikdik Sayahdikumullah, whose work in this exhibition leans toward the abstract.
Meanwhile, Maharani Mancanagara engages with unfinished history in an installation of charcoal paintings on wood that reminds us that trials have still not been held for the 1965/66 massacres.
The possibility for random explorations to result in interesting works is demonstrated by Erwin Windu Pranata, who compiles lines and inordinate scratches from walls and random pieces of paper to create a colorful 3D work, as well as Budi Adi Nugroho, who seeks to show how objects can be transformed by bringing together old wajans (frying pans) to create a colorful visual metaphor about the rebuilding of a dilapidated urban environment; and Arghya Dhyaksa, who made a composition from fractured ceramics to show that things that are broken can be transformed to reveal new beauty.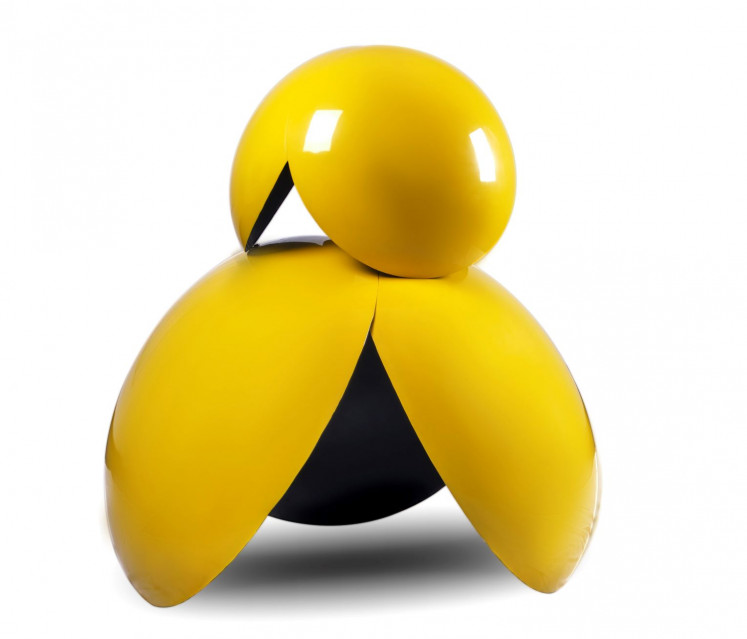 Playing around: 'In Search of Gold #3' (iron and paint, 2018) is an example of Budi Adi Nugroho's exploration of how objects can be transformed to create visual metaphors. (Courtesy of ArtSociates/-)
The fusion of mythology and contemporary reality is explored by Eldwin Pradipta, who compares the depiction of an eclipse in Javan mythology to the art world.
Eldwin compares the story of a mythological creature swallowing both the sun and moon before releasing them to the phenomenon in the art world of an art work disappearing from the market, only to return when high demand induces a high price. 
Going beyond conventional painting, Restu Taufik Akbar replaces oil on canvas for polyurethane, nitra cellulose and stained glass on stainless steel to make movement in the painting tangible.
Meanwhile, Syagini Ratna Wulan, a passionate reader and observer of the human psyche, takes inspiration from art, culture, psychology and scientific theories. In her work at the exhibition, she presents interchanging light on a range of panels, applying the Fibonacci theory to measure distances between the panels.
Digital data and the internet have become an overpowering part of life. Jim Allen Abel, who specializes in photography, is concerned with the groundbreaking changes this has brought to the way humans relate socially and culturally.
The exhibition also includes eye-opening works from Angga Aditiya Atmadilage, Bandu Darmawan, Etza Meisyara, Gabriel Aries Setiadi, M. Akbar, Michael Binoko a.k.a Koxis Verseken, Natas Setiabudi, Nurrachmat Widyasena, Patriot Mukmin, Rendy Raka Pramudya, Septian Harriyoga and Wilman Hermana.
— The Seni Rupa Kontemporer exhibition runs from September to December at Sakarsa Art Space, Jl. Kenanga Raya no. 9, Jakasampurna, Bekasi 17145. Contact: Yori Papilaya +62 87823416728
Your premium period will expire in 0 day(s)
close x
Subscribe to get unlimited access
Get 50% off now