Eve Watters was 13 years old when she taught herself to play guitar. Now, having leveled up to a variety of traditional instruments, she delights audiences around Virginia and residents of Harrisonburg with musical performances and visual art. 
"That's when I figured out that I can learn anything, if I just structure the teaching in my own way," Watters said of her musical training as a teenager.
Since those self-taught guitar lessons, she's pursued musical and artistic exhibits with the same independence and originality. 
Although Watters said she's loved music since she was young, her career in visual art preceded that of musical storytelling. While raising her daughter as a single mom and awaiting the opportunity to pursue music, she began to consider the prospect of continuing her education.  
"The community college was calling me," Watters said.
She left her position doing community organizing as a VISTA volunteer in Charlottesville to enroll at Piedmont Virginia Community College, where she studied design. Although she'd never before contemplated working in art, she found herself enjoying graphic design and calligraphy. Consequently, upon transferring to the Mary Baldwin Adult Degree Program, she focused her study on arts management. 
Her studies led her into production work for radio programs and for storytelling festivals, which ultimately directed her toward a career of performing traditional music and folktales. For nearly two decades, she traveled in the U.S. and abroad with the Virginia Commission for the Arts. With a goal of visiting all 50 states and every county in Virginia, Watters gave musical performances in about half the states and all but approximately 10 of her home state's counties. 
"Stories have so much wisdom in them, and it's hidden in this entertainment form," Watters said. 
Watters said she likes her audience to feel entertained, but she also said she doesn't feel like an entertainer. 
"I like for them to have a beautiful inner experience, a joyful experience," Watters said. Because of this, she enjoys the smaller venues and the out-of-the-way places "where the magic can really happen."
Julie Jackson, who's worked with Watters as the outreach director at the Arts Center in Orange, Virginia, expressed a love for Watters' performances. 
"It is just such a calming, restorative experience to listen to her play," Jackson said. "After listening to her perform at an event for us, I personally purchased a CD for myself and bought multiples to share with my family and friends that could use a reflective, beautiful pause in their days. I have personally seen how her music touches others deeply as well." 
She compared working with Watters to attending a performance. 
"She is the consummate professional in every endeavor," Jackson said. "I always look forward to talking to her and learning more about her art." 
Watters utilizes traditional instruments in her performances, including several varieties of harps, the Native American flute, the pennywhistle, the five-string banjo, the concertina and the mountain dulcimer. She accompanies her playing with vocals, singing sometimes in different languages such as French, Scotch-Gaelic, Irish, Welsh, Hebrew or Yiddish. 
Her performances combine song and story, drawing from timeless tales and reviving traditional styles. But she'll also play more recent music in order to suit wedding clients' desires or to delight elderly patients with their favorite tunes from the 1930s and '40s. Once, Watters said, her knowledge of Yiddish music calmed an elderly woman. 
As a certified music practitioner, Watters has performed regularly for patients at the Hospice of the Piedmont in Charlottesville and in her inaugural role as a musician in residence at the UVA Medical Center. Five or six musicians have since joined Watters in the position of utilizing music as a method of therapy. 
Currently, the pandemic has put that work on hold, pausing nearly 20 years of therapeutic music at the medical center, but Watters' impact on the program is unmistakable. Kate Tamarkin, who also serves as a musician in residence at the UVA Medical Center, credits Watters with guiding her toward therapeutic music and said that local therapeutic musicians are indebted to Watters for her contributions to music in Charlottesville, Virginia. 
"She's got boundless creativity, and she's completely connected to her heart," Tamarkin said. "I think it informs everything she's done." 
As another consequence of the pandemic, Watters has seen her concerts canceled through next spring. However, she's starting to book small weddings and elopements, and she'll soon record a performance that can be distributed digitally, thanks in part to funding from the Virginia Commission for the Arts.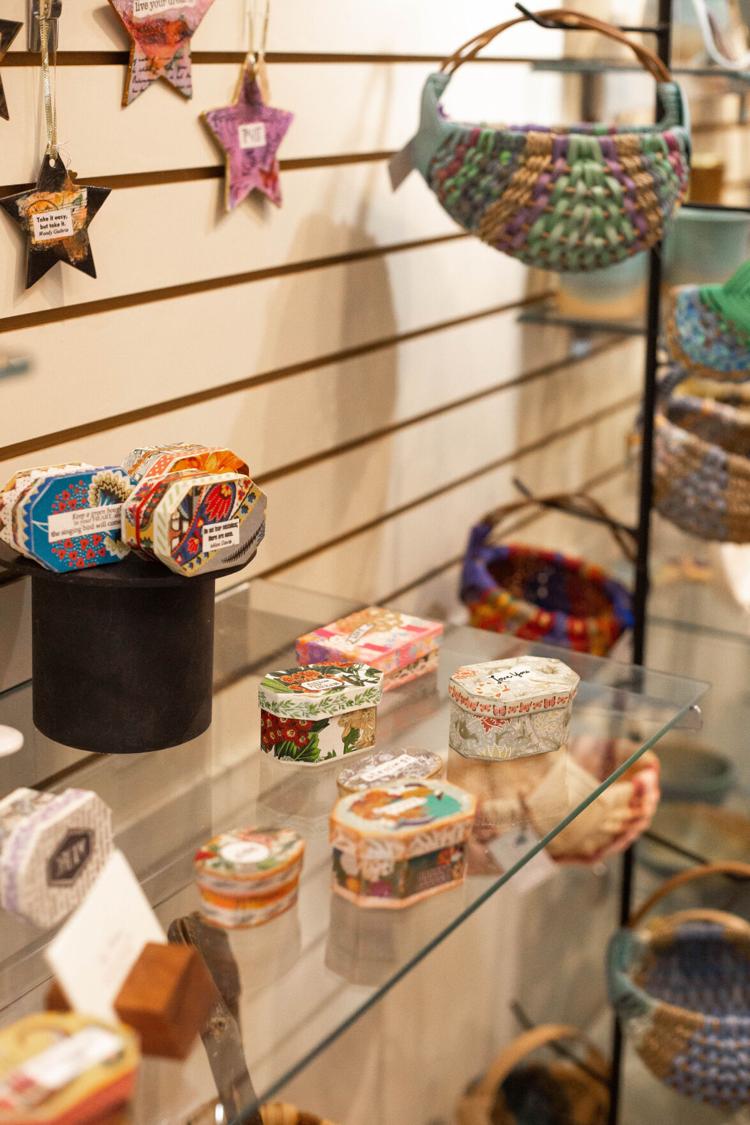 For now, she's enjoyed the chance to take a break from her busy schedule and return to art. About 10 years ago, as she described it, the desire to make visual art "came burbling up and wouldn't let [her] go." Some of her work was published in art magazines, and she now displays and sells her artwork at OASIS Fine Art and Craft, a cooperative art gallery in downtown Harrisonburg. She works in mixed media and enjoys using paper and doing calligraphy. Her artwork experiments with words, colors and textures, all with the aim of bringing brightness into the world. 
"I have this belief that our eye catches a morsel of a message, and if it's a positive message, it goes into our system," Watters said. 
For her, music isn't the only discipline with therapeutic qualities. She said she believes that the therapeutic effects of music hold true for visual art as well. 
"There's great value in going inside and bringing out eternal truths," Watters said. "That's really therapeutic for us, in any art or any profession." 
Contact Maria Copeland at [email protected] For more on the culture, arts, and lifestyle of the JMU and Harrisonburg communities, follow the culture desk on Instagram and Twitter @Breeze_Culture.